I was out wandering Las Olas Blvd— the quaint restaurant row and fancy shopping avenue in Ft Lauderdale. It was window and 'sometimes walking-in' shopping. While purchasing a knick-knack, I asked, "Why the 25 percent off pre-sidewalk sale?" The girl looked at me like I must live on Mars, as everyone should know why there was a discount. "Black Friday is next week."
Oh riiiiiight, I forgot. I guess I do live on Mars. Or on an airplane. They both have that different planet thing in common.
But the point is, it's the holiday season. So, to help with your gifting inspiration, here are 5 gift ideas for that flight attendant in your life.
Netflix or Spotify Subscription— One can't exactly go wrong with gifting a subscription to Netflix or Spotify. And one cool thing about Netflix is that the content changes based on the country. You don't know how many times I've heard, "I'm so happy because I can  watch this here. And Netflix has that. And as far as Spotify, with a subscription, songs can be saved to listen when offline.
Want to know the latest secrets and
insider info of Flight Attendant Life?
Sign up for our newsletter!
Flight Attendant Inspired Tees— Choose from a variety of travel inspired wear created specifically for The Flight Attendant Life. These lifestyle pieces are a great addition to the wardrobe of any flight attendant hopeful, av geek, and cabin crew member. To order, please click here.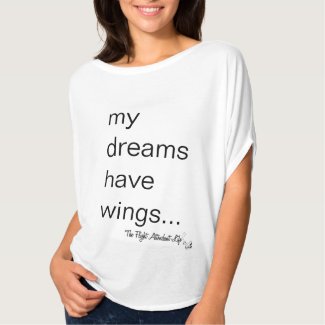 The Flight Attendant Life: Dreams + Wings T-shirt
by
THEFALIFE
See other Flight T-Shirts at
zazzle
Drink And Fly Women's T-shirt
by
THEFALIFE
Make
custom t shirts
at Zazzle
S'well Bottle— There are multiple reasons why S'well bottle would come in handy in flight attendant life. These bottles keep liquid hot for 12hrs and cold for 24hrs. Environmentally friendly, with different size and color options. Currently offering free shipping during the holidays. Only available in Canada and US.
Airplane Earrings & Necklace— Every flight attendant loves an airplane necklace or little plane earrings. Jewelry & Fashion Designer Betsey Johnson created a couple of cute options if the Tiffany's version sounds a bit posh to you. Take a look at the earrings here. At time of writing, the necklace was no longer available.
Michael Kors World Watch— If you want to splurge on your FA, this Michael Kors watch screams wanderlust with it's continent encrusted sparkle. Not just for show, watches are a required item for any savvy stew.
Kara
My Dream Job Has A Name Tag
3 weeks ago
The Norwegian Airlines That I Knew
1 month ago